HMO FOR SALE
HMO property for sale in County Durham.  This is a 17-bedroom apartment block is situated in the heart of Stockton On Tees on Yarm Lane, TS18 3BW.  Currently, this HMO opportunity is let on a 5-year government-backed scheme this property is up and running and will offer an instant return on capital invested.  Generating a rental income of £35,000 per annum.  This will appeal to many investors looking for a long-term income and a yield of circa 8%.
HMO Property – £400,000
This HMO property comprises of 4 x 3 bedroom apartments and 1 x 5 bedroom HMO apartments.
Property Features
5 Year Lease in place
£35,000 rent pa
8% Yield
Freehold
Council Tax Band A
EPC C-B
To learn more about this HMO for sale, click here.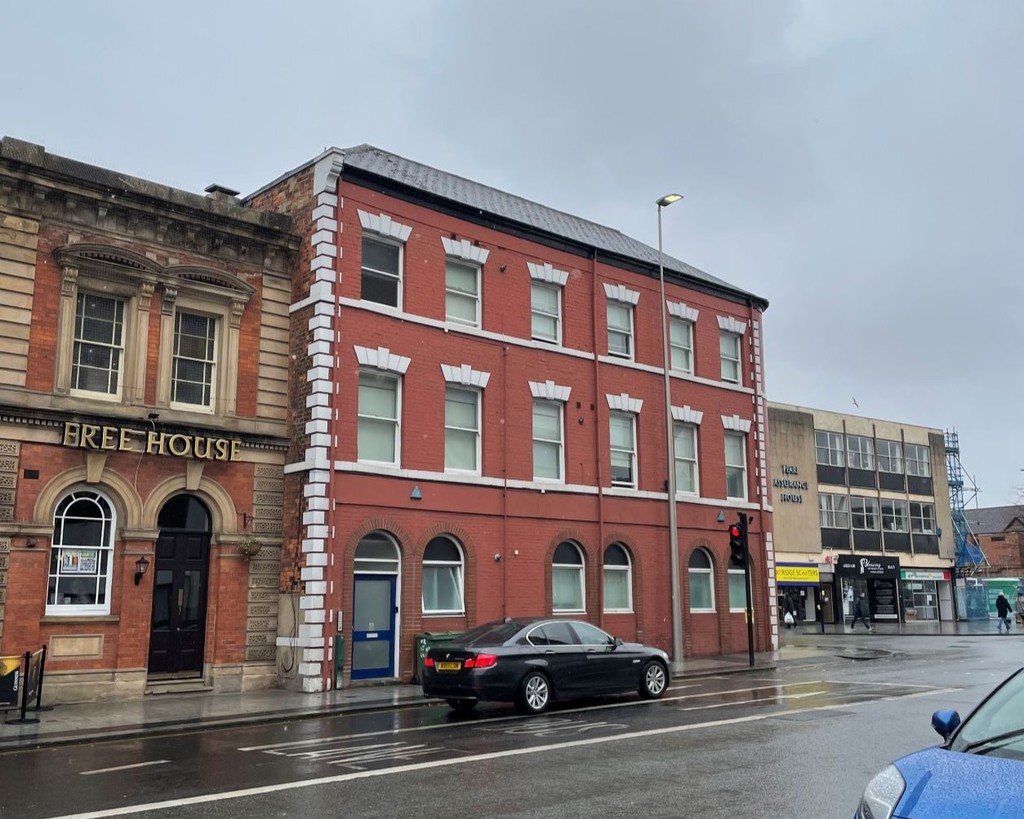 The benefits of owning an HMO property as an investment can include:
The benefits of owning an HMO property as an investment can include:
Higher rental income: HMO properties have the potential to generate significantly higher rental income compared to traditional single-family homes. With multiple tenants paying rent for their individual rooms, the overall revenue surpasses that of a single-let property. This increased cash flow translates into a more profitable investment.
More stable cash flow: One of the most attractive aspects of HMO investment is the stability of cash flow. Unlike single-family rentals, where a vacant unit could leave you without income, HMO properties with multiple tenants experience less income disruption. Even if one tenant leaves, others continue paying rent, providing a cushion against financial fluctuations.
Higher yield on investment: The combination of higher rental income and stable cash flow enhances the yield on your investment. This means that your returns, relative to the capital you put into the property, can be notably higher compared to other forms of real estate investment.
Growing demand: The demand for affordable housing continues to rise due to factors such as urbanization, population growth, and increasing living costs. HMOs cater to this demand by providing cost-effective living arrangements with shared amenities, making them an attractive option for a wide range of tenants.
Tax benefits: Like any rental property, HMO owners can take advantage of various tax deductions. These deductions can include expenses such as mortgage interest, property taxes, insurance, repairs, maintenance, and even depreciation. These tax benefits can help optimize your cash flow and improve your overall investment returns.
Liabilities and Considerations
Owning an HMO property also comes with some challenges. It is a more complex type of property to manage, with multiple tenants and often more wear and tear on the property. Additionally, it is typically more regulated than a single-family rental property, with more strict safety and housing codes that must be met, so it is important to be aware of the regulations for the area where you are considering investing.
It's important to note that the information provided here is a guideline only and is based on general investment principles. Each investment event will have unique circumstances, and we cannot guarantee specific outcomes.
NEPI advises investors to seek independent financial advice before making any investment decisions.
While we strive to provide accurate and up-to-date information, NEPI and NEPLM are not liable for any loss or damage arising directly or indirectly from the use of this information.
Investors should ensure that the income generated from the HMO property is sufficient to cover debt interest costs, operating expenses, and any other liabilities associated with the investment.
Short-term investment fluctuations may occur, and investors should be prepared for potential market changes.
Properties should be rented at amounts sufficient to cover debt interest costs, operating expenses, and provide positive cash flow.
It is advised to seek independent financial advice before making any investment decisions to ensure that the investment aligns with your individual financial goals and circumstances.
HMO Property Management
NEPI's sister company, NEPLM (North East Property Lettings & Management), specializes in providing professional property management services for various real estate investments, including HMO properties.  With their expertise and experience, NEPLM can efficiently manage the day-to-day operations of HMO properties, ensuring optimal performance and maximizing returns for property owners.
NEPLM stands out in its tenant screening processes. They meticulously scrutinize potential tenants, confirming references, performing background checks, and evaluating their suitability for the HMO property. This guarantees that responsible and dependable tenants take up residence, minimizing the chances of payment problems or disruptive behavior.
Furthermore, they oversee rent collection on behalf of the property owner. They establish efficient systems to guarantee punctual payments from all tenants. Additionally, NEPLM manages financial matters, maintaining precise records of income and expenses, and furnishing the property owner with comprehensive financial reports on a regular basis.
One of the crucial aspects of property management is ensuring that the HMO property is well-maintained. NEPLM oversees routine maintenance and prompt resolution of any repair issues that may arise.  By proactively addressing maintenance concerns, they help preserve the property's value and tenant satisfaction.
Property owners partnering with NEPLM avoid daily management tasks, enjoying hassle-free HMO property investment. NEPLM ensures compliance, smooth operation, and steady returns.
Contact Us

11 Riverside Studios
Amethyst Rd
Newcastle Upon Tyne
Tyne and Wear
NE4 7YL

North East Property Investment Ltd
Working With